The "LAST PARADISE" DVD (all regions) can be shipped to USA, Europe and other countries.
TO ORDER:
Send an email to: info@lastparadisefilm.com with subject "Overseas DVD order" and specify:
Number of DVDs you require (see costs below)
Your Name and postal address.
We will then send you an invoice which you can simply click to pay by Paypal or Credit card and then your DVDs will be posted. Allow 1 to 2 weeks delivery time.
COSTS:
HOME USE DVD
It is more economic if more DVDs are ordered per package, which is often what people do for presents or retailing in small shops. Orders of 6 and 10 are significantly reduced to wholesale price.
Total cost including international delivery to your address:
1 DVD         USA $32
2 DVDs       USA $53  ($26.50 each)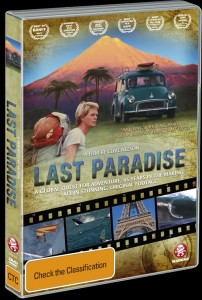 3 DVDs       USA $75  ($25.00 each)
4 DVDs       USA $94  ($23.50 each)
5 DVDs       USA $110 ($22.00 each)
6 DVDs       USA $126 ($21.00 each)
10 DVDs     USA $150 ($15.00 each)
EDUCATION USE  & PUBLIC SCREENING
(universities, schools, libraries, NGOs, public use)
The following DVD versions prepared for Nat Geo can be ordered internationally by the same procedure as above. The purchase cost includes the license for non-theatrical public public screening.
94 minute feature:   USA$200.00 
52 minute version:   USA$200.00