LAST PARADISE is the lifetime work of Clive Neeson, a physicist, adventurer, technology innovator  and inspirational speaker. Clive attends special screenings of the film to inspire the audience on  adventure, science and pursuing their dreams.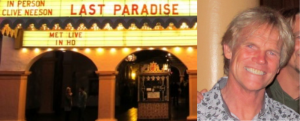 Clive grew up on safari in East Africa as his parents filmed wild animals during the 1950's. In New Zealand and Australia, he joined a group of young mavericks who would become the pioneers of today's extreme sports. Clive studied for 6 years under pioneering physicist and disciple of Ernest Rutherford, Professor Bruce Liley graduating with Masters degree in physics and electronic engineering. Clive worked for 30 years as an international expert in hi-tech innovation and energy projects from Silicon Valley to the Middle East.  From the first digital climate monitoring system to nation-wide control systems for power generation, many were "world-firsts", requiring deep mastery of physics and hardware/software. From inside the silicon chip to total systems design.
Living a double life between extreme sports madmen and the entrepreneurial hi-tech world, Clive filmed the journey from experimental beginnings, building his own filming technology on the side to get a closer perspective of action sports, the innovative spirit and the unique beauty of extreme New Zealand, Australia and the world. Professional Profile (Linkedin)
In 2007, Clive had the unique opportunity to digitally master 45 years of film footage in high quality at Peter Jackson's studios at Park Road, Wellington and to create "Last Paradise" film to inspire people of all ages on our amazing world and whats possible in life.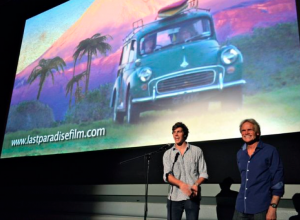 Clive and Jack, conducting a Q and A  on a 60-cinema inspiration tour.
Clive Neeson: "The main thrust of the film is to inspire people to pursue their life's dream, to study the physical sciences and form a personal relationship with the natural wilderness in the hope that they will be moved to save it".  The 45 year journey gives the audience an insight to how much the world has changed in one lifetime so they can get a first hand vision of  what "normal" was for the planet, WHY we need to innovate and HOW.  The campaign has been extremely well embraced by conference organisers and university professors who say "it achieves what we most need today – making science sexy"  with the appealing hook of fun and adventure. Clive's inspirational  speaking events for conferences and education include screening of the 50 minute or 90 minute versions of "LAST PARADISE" specially prepared with National Geographic. For inquiries contact lastparadisefilm@gmail.com
Clive: "Inspiring outdoor adventure  is the best way to inspire study of science and address both the  obesity crisis and the environmental crisis: Tomorrow's protectors of the wilderness are those who play in it today".